School Signs
School Signs and products
Please feel free to browse through all our school signs and products below. All designs can be customised as we create all our signs and design in house. Add your school branding, colours or message. Please get in touch.
Please be sure to also visit our school sign gallery to see some of our previously customised designs for other schools.
You are here:
Filter by type:
Banners
Cones
Corridor
Fence or Gate Mount
Flags
Pavement Sign
Pull up banners
Stickers
Clear filters
Showing the single result
Car Parking & Site Safety Signs

Traffic Cone Safety Message Road Pavement Sign

From:

£

93.99

Traffic Cone Safety Message Road Pavement Signs

 Latest Design (Working Excellent for other Schools with parking problems)

Quick and easy to assemble – no tools required
Great for all outdoor conditions
For added stability in windy or busy environments simply fill the hollow base with water or sand
Double sided graphic area
Height of the sign is 1180mm
Print area dimensions are 410mm x 478mm
Working Excellent for Parking Problems outside your School
Custom Signs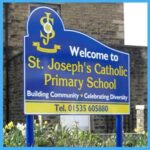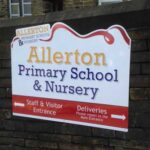 We design and supply full school signage for schools, colleges, universities and nurseries.