Pavement Safety Signs
Our range of pavement signs and A Boards to deter dangerous parking outside your school. Our popular "Caution – Think Before you park" is our best selling parking sign product, purchased with great success stories by schools and councils across the UK. We produce our signs in house, and we can customise all the designs for you. Feel free to get in touch and send in your own custom message, school logo or design requirements. Please note, all these designs are our original designs. Please be aware of inferior copies. We only use the best quality materials and printing techniques.
You are here:
Related categories
Looking for our Kiddie Pavement Signs?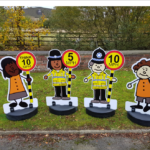 Please take a look at our kiddie cutout pavement signs category: